The new year is right around the corner, and we know the questions on email marketers' minds: What trends are heating up for next year and how can I integrate them into my 2022 planning? We've got you covered. 2022 is going to be a year of growth and innovation in the email space—so get comfortable and let's dig into the hottest email marketing trends of the new year.
Table of Contents
1. Build trust using BIMI
Successful email marketing is built on trust. BIMI, or Brand Indicators for Message Identification, enables marketers to display brand-controlled logos within supporting email clients. BIMI increases the confidence email recipients have in the source of the email and creates instant brand recognition in the inbox. By displaying clearly who is sending the email and why, BIMI is the most transparent way to let users know about the authenticity and value of your email.
Example: HBO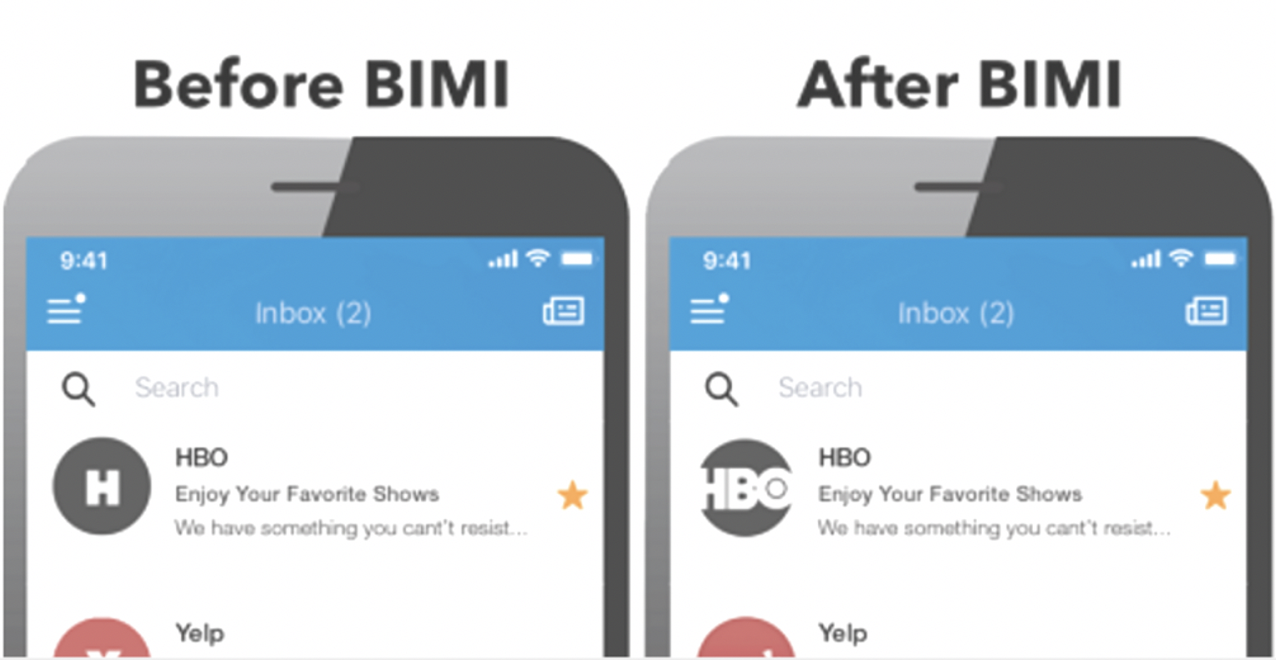 [See image] On the left is an email from HBO. While the inbox shows the 'friendly from', it's still not instantly recognizable in a crowded inbox who is in fact sending the email. After applying BIMI on the right, HBO's logo is clearly displayed, which creates a recognizable brand experience and makes the content even easier to scan and digest from the inbox.
Why it will be relevant in 2022:
Brands that introduce BIMI help support good domain and IP reputation and in turn, excellent subscriber engagement as they know this sender is validated and trusted
BIMI strengthens brand recall for customers, prevents fraudulent activities and cultivates trust in your customers crowded inbox
It's a relatively low level of effort considering it's impact, and once implemented, it can easily be applied across all of your marketing programs
2. Capture zero-party data
Zero-party data—sometimes referred to as self-declared data—is data that a customer voluntarily provides. This is data that marketers can't infer, buy or collect elsewhere. It's exclusively provided by the consumer and can be used to help build out future marketing experiences.
Example: Valvoline Gamified Quiz

In this example, Valvoline created an interactive and gamified experience to capture more zero-party data. Throughout this quiz, the customer learns about Valvoline's product—but Valvoline in turn learns about the customer and their driving habits, which they can use for future personalization and product positioning. There is also a clear value exchange: the customer receives a $7 off oil change coupon at the end as a thank you for their participation.
Why it will be relevant in 2022:
Capturing zero-party data is a great opportunity for brands to build more first-party data and can be executed easily through templated experiences
Voluntary experiences see high customer engagement: Up to 85% of people are considerably more willing to provide personal information in exchange for something that benefits them
This valuable data can extend beyond email and inform business decisions across the marketing landscape
3. Connected customer experiences
As email marketers, it can be difficult to broaden our scope and think of how we talk to the customer outside of the email channel. We're often focused on episodic communications—but if we take a step back and consider data outside the email world, we can better understand how consumers are engaging with our brand holistically. For example, in a recent survey, retailers reported 30-50% of web traffic came from mobile, and this percentage continues to increase. How does that play into your entire customer experience?
Example: Dunkin'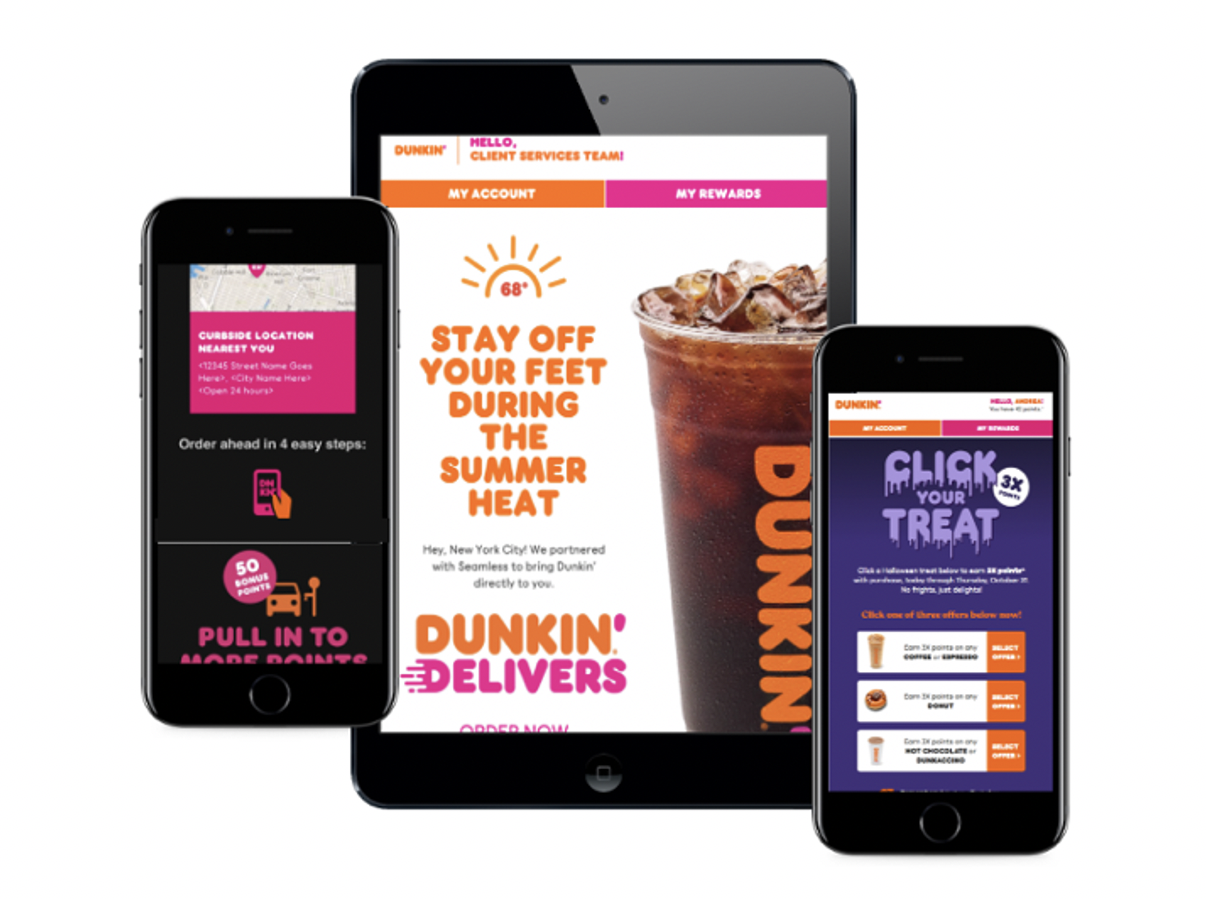 Dunkin' wanted to use email to drive more in-store visits. The solution? Realtime activation of an offer customers select in their email for immediate use via the mobile app. This approach worked—and drove a significant increase in members who redeemed the offer. Dunkin' seamlessly integrate the email, mobile and in-store experience on behalf of their customers.
Why it will be relevant in 2022:
Omnichannel experiences help connect online and offline data to understand who, how, when and where brands should target
Delivering relevant offers across channels drives higher conversions
Driving engagement with the consumers on the right channel at the right time leads to higher brand loyalty and a more positive customer experience
4. Map your customer journey
Journey mapping is a way that brands can understand every stage of the customer experience and accelerate the customer journey. Journey mapping quite literally starts by mapping the unique customer journeys for each program. Sometimes, it's easier to do this with pen and paper first—identify the gaps, opportunities, redundancies and then map out your new ideal journey for all stages of the customer lifecycle.
Example:

This is a comprehensive customer journey map backed by data. Here, you can see all the touchpoints this brand has with a person, what the net out of the experience was, and how that informed their next move throughout the funnel. If you need more help to get started, check out our blog on customer journey mapping.
Why it will be relevant in 2022:
Journey mapping leads to tailored and seamless customer experiences that elevate your brand
Understanding your customers and how they behave, what channels they prefer, when they interact with your brand the most (or fall out of the funnel) is often more important than what content you send
Drives loyalty and retention
5. Enhance customer experience with machine learning
Artificial intelligence (AI) provides the foundation to learn from every single interaction and adjust your response in near real-time, while machine learning (ML) is a real time decision management framework and middleware software solution that easily connects to various platforms, providing an omni channel structure and removes the need for many point applications. A modern machine learning and AI component optimizes personalized experiences to improve business results​. The same way self-driving cars learn and predict about the environment around them, ML for marketing learns about customer behaviors and predicts future events.
Example: Marriott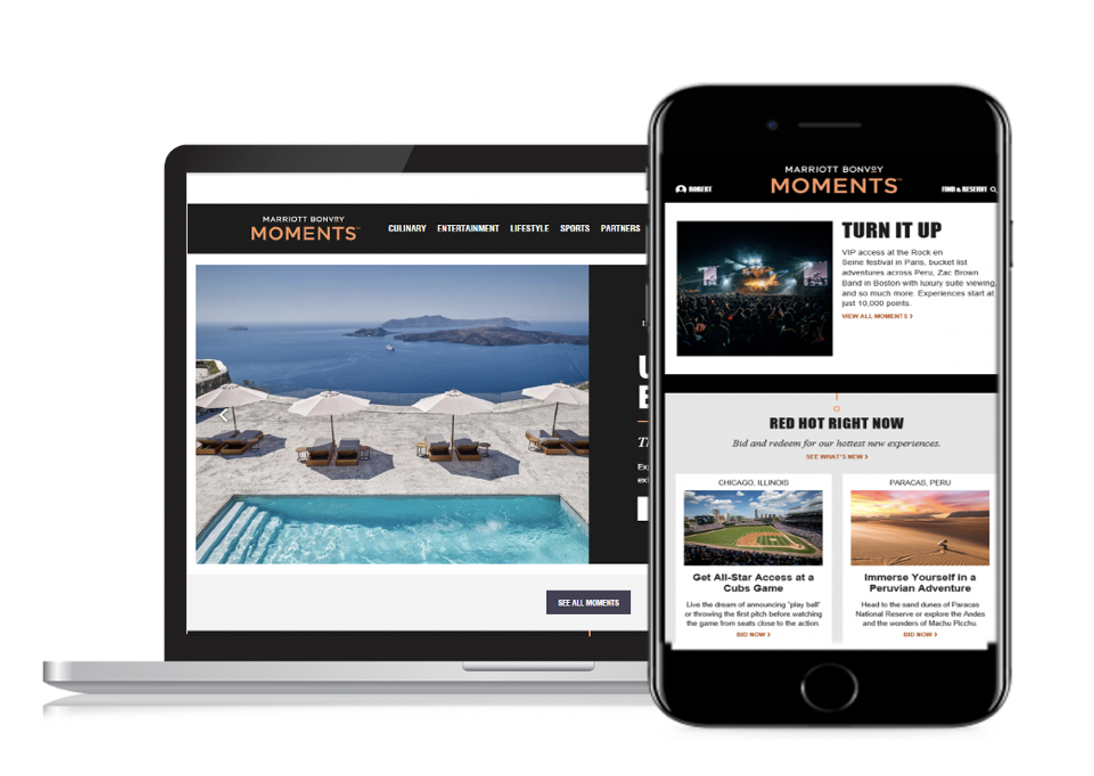 Marriott came to Epsilon wanting to increase engagement for a rebranding campaign, but they didn't have the bandwidth or resources to deliver unique content for each guest. Epsilon's solution was to leverage Machine Learning to generate unique SL's for guests based on their proclivity to engage with the content. And it worked: this drew a significant lift in engagement in a nearly inactive audience.
Why it will be relevant in 2022:
AI/ML helps teach marketers what content customers like to see and engage with, or what resonates the most with everyone
Machine learning will help marketers process volume of data a human just simply can't, and can quickly lead to improving opens, clicks, conversions across your brand programs and solutions
Better personalization capabilities at scale
Real-time personalization as a customer moves through the lifecycle
6. Simplify your design process
We know getting an email out the door from concept to code—and then deployment—can be a laborious process requiring multiple hand-offs and numerous people and teams. In 2022, it's all about efficiency. Streamline your email content creation processes and introduce dynamic elements into your campaigns at scale with email builders. The introduction of an email builder simplifies the process to allow marketers to drastically reduce their production processes so they can focus on driving business outcomes.
Example: Visual Editors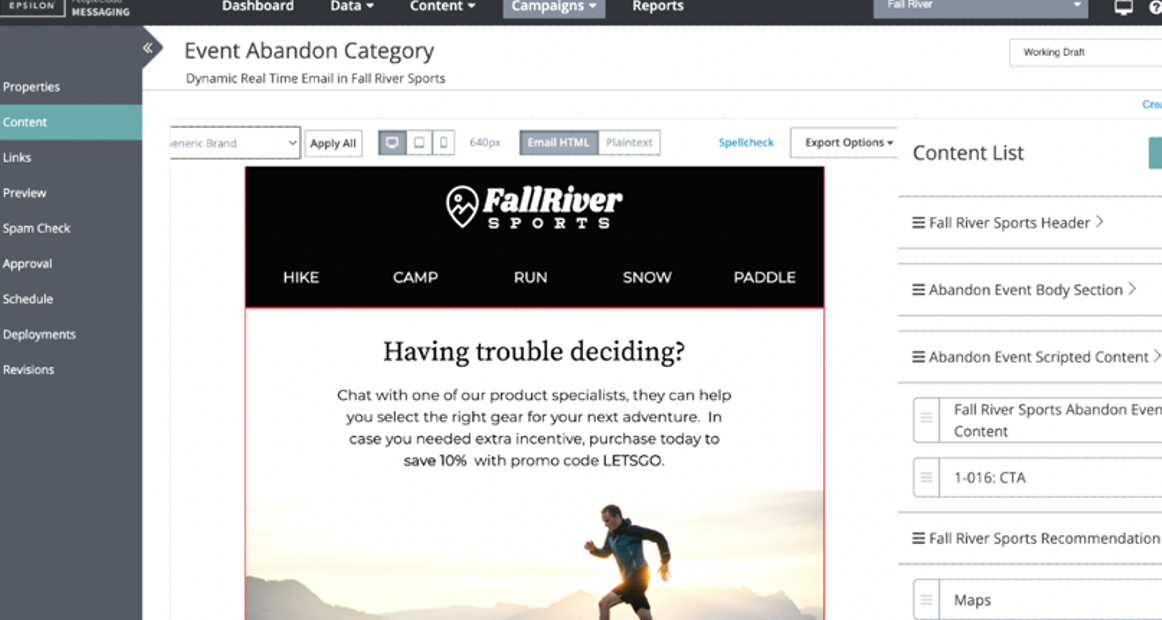 For example, Epsilon's Visual Editor, native to the Epsilon PeopleCloud Messaging platform, enables marketers to create content and emails in an easy to use drag and drop environment. The robust capabilities of this solution then enable dynamic content and logic to be included, eliminating many manual processes that often slow down the campaign creation process and prohibit personalization.
Why it will be relevant in 2022:
Email builders like the Visual Editor takes what might have taken a brand days to create down to a matter of hours to design and build an email from scratch with personalized, interactive content, consistent branding and accessible compliant code
Marketers can simplify their email production process and personalize at scale by eliminating the need for HTML coding
The standardization creates a consistent brand experience
7. Energize experiences with interactive content
What do we mean by interactive content? Interactive content is content that the customer can engage with and interact with (carousels, add to calendar modules, videos, polls, or quizzes). It's also content that can be delivered in real-time; at the time of open. We predict interactive content is going to be a major opportunity in 2022—people are exhausted, and want to be transported from reality when engaging with brand-level content. Content your consumers can have fun with will put your brand top of mind.
Example: This or That poll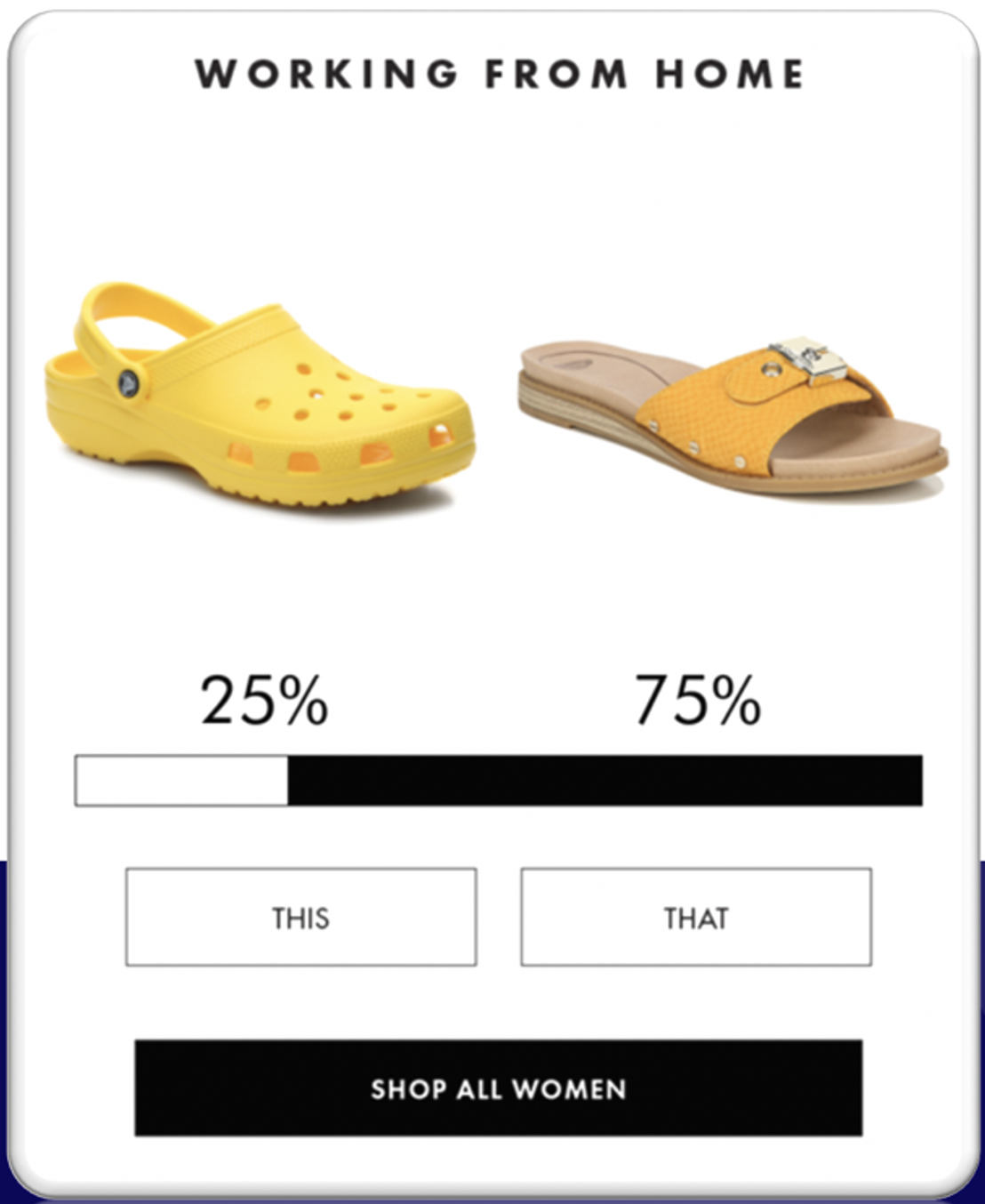 Consider a ​"This or That" poll feature that asks subscribers to vote for the shoes they'd most like ​to wear if they are working from home (but it doesn't have to be clothes—it could be anything!). This fun and engaging piece of content gives insight to understanding what kind of products the customer would purchase and reveals to the customer what others are voting on too.
Why it will be relevant in 2022:
Increased engagement with real-time personalization strengthens brand affinity
Creates a sense of urgency with customers
It's a huge opportunity: despite its outstanding performance in the inbox, surprisingly few marketers are using interactive emails in their own marketing

A full 77% of marketers have not tried interactive email yet and nearly half (45%) of respondents haven't tried interactive email—and they don't plan to any time soon
Only 23% of marketers say they've used interactive elements in their emails

Having fun with your customers has become more important than ever as people continue to come out of the pandemic
8. Boost behavioral messaging
Here's a tip for 2022: Let the customer lead the way. Make it easy on yourself and harness the power of consumer behavior to drive your marketing communications. This takes the guess work out of it all. Real-time and personalized communications enhance your knowledge of your customer and enables meaningful dialogue with every touch.
Example: The Children's Place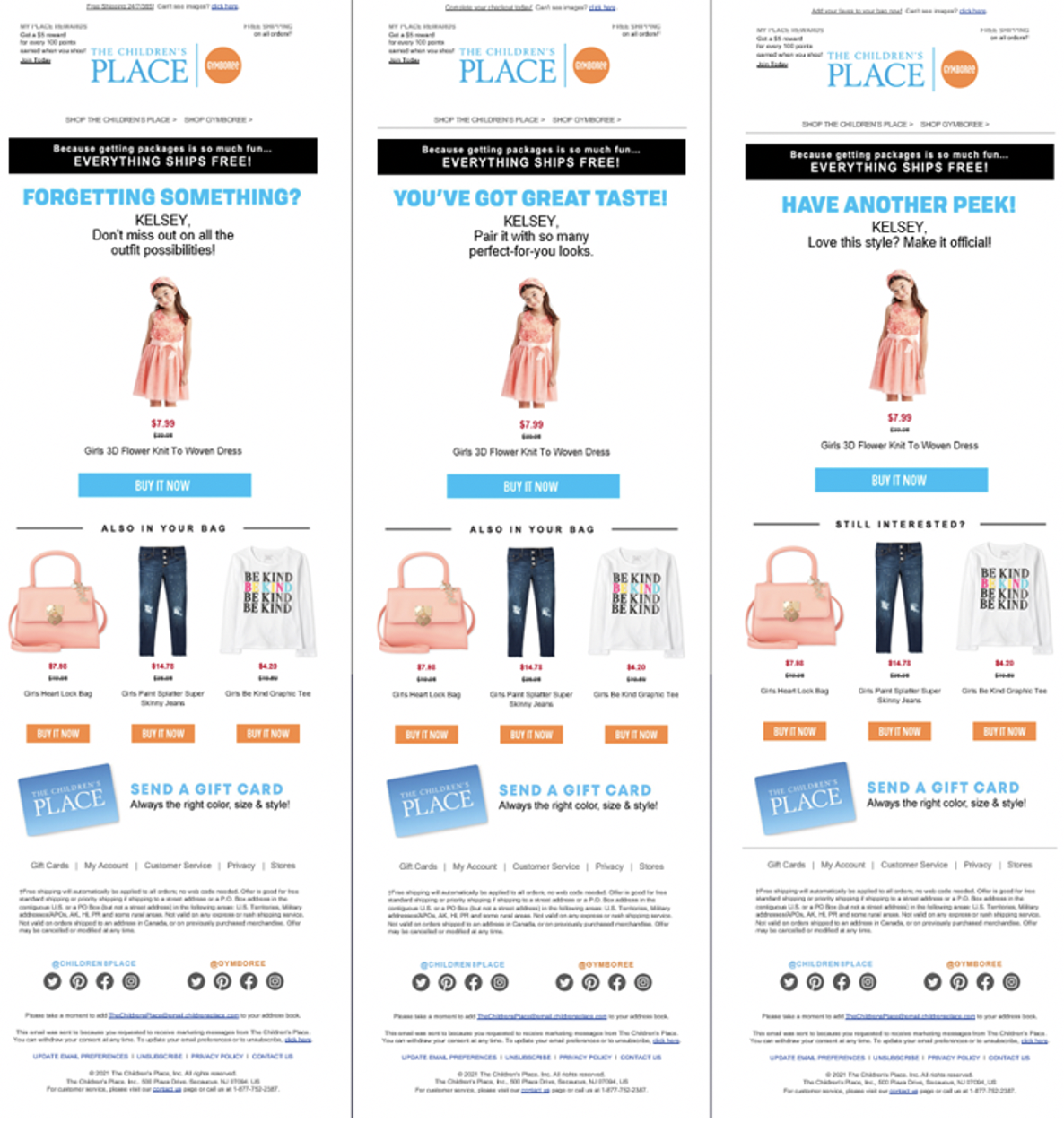 These examples show how the same template can populate different messages based on the consumers behavior. For example:
Did you forget this dress in your cart?
Did you make this purchase and this dress would really compliment your look?
Did you browse this dress, but didn't purchase…
All these behaviors can be very powerful in enabling brands to connect with customers in relevant and meaningful ways, in the moments that matter most.
Why it will be relevant in 2022:
Behavioral-based messages increase brand loyalty and drive conversions
Deliver more automated experiences and meaningful engagements with every touch
Allow brands send more automated and programmatic email rather than adhoc, resulting in efficiencies for the brand and value for the customer
9. AMP-lify your email
Standing for Accelerated Mobile Pages, AMP is a technology introduced by Google that makes it possible to embed dynamic and interactive elements such as carousels, accordions, and purchase buttons directly in emails. Marketers can even use AMP components to allow recipients to RSVP to an event, browse a catalog or respond to a comment within the email.
Think of AMP as technology that enables interactive content, rather than content itself.
Example: Enticing customers with interactive elements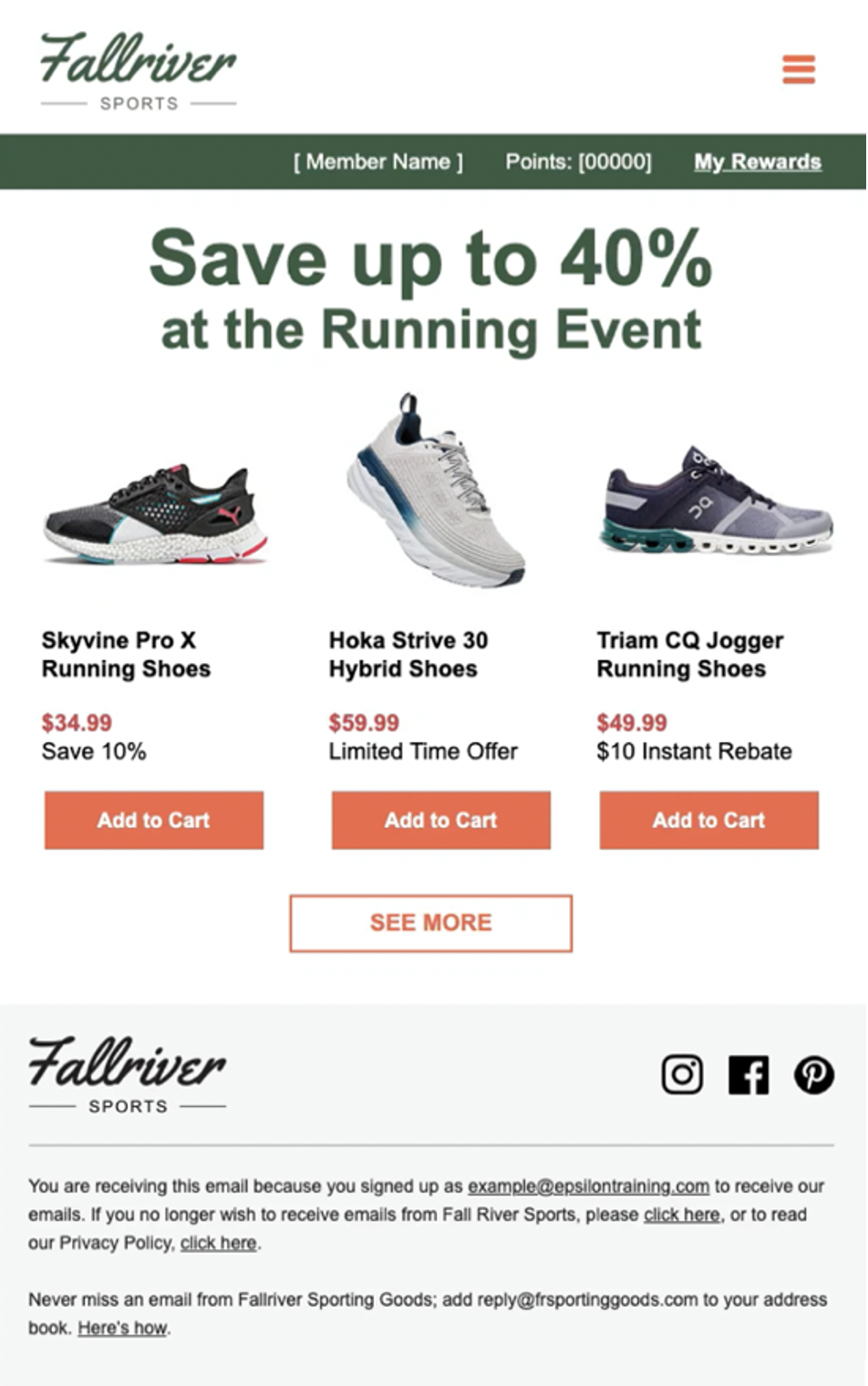 There are a few things going on in this example: the hamburger menu in the upper right corner enables the user to tap to interact, mirroring the experience in app to search menu. Another great AMP experience is enabling the user to add more content to your email with a 'see more' button in this example which reveals even more products. The fallback experience for email clients that don't support AMP is seamless: a static version of the message is displayed with a traditional menu or navigation bar. Customers that don't receive the AMP experience will be none the wiser that they are missing out of a richer more dynamic email.
Why it will be relevant in 2022:
Increased in-mail capabilities: Senders can include AMP components inside rich, engaging emails, making them dynamic and interactive. AMP emails are always up to date and can function like digests, with fewer clicks necessary to achieve efficient results
Increased personalization: AMP for email allows exciting smarter and efficient user engagement, as customers can act directly within their email
Interactive customer experience: AMP Email's expanding capabilities allows you to act right inside your Inbox
10. Increase tapability
Don't leave clicks on the Table! Maximize click opportunities in 2022 within campaigns to increase engagement and drive conversions. This is especially relevant considering open reporting from Apple will become less reliable with new privacy regulations.
Example: Clickability scoring
What do we mean by increasing tapability? For example: Let's look at this Vehicle Maintenance Reminder​. It's a great illustration of all the ways you can increase the opportunity for clicks within a campaign:
Make clicks near impossible to miss ​
Ensure clicks drive to site conversions
Include tap or click incentive
Consider agile or interactive content
How editorial based is your message vs clickable
At Epsilon we are introducing a tapability score to compare engagement across campaigns and audiences.
Why it will be relevant in 2022:
Drive strong engagement and conversion opportunities
"Clicks" or "Taps" to become new engagement metric independent of opens
Wrapping it up
If there's one thing we must stress heading into next year, it's to never lose sight of the importance of personalization within your email programs. 90% of consumers experience personalization and find it appealing. In addition, Epsilon research shows that 80% of consumers are more likely to do business with a company that offers personalized experiences. So, while we head into a new era of privacy regulation, use the trends we've discussed in this piece to nail personalization and propel it to the top of your brand's strategy in 2022.