When you think Spider-Man, do you think marketing?
Marvel's marketing prowess is just as bombastic as the characters they bring to life on screen. But in their latest hit, Spider-Man: No Way Home, the plot itself is an interesting commentary on one of the most important topics in marketing today: identity.
Spoilers ahead: In the new movie, Tom Holland's Peter Parker enlists the help of Dr. Strange (played by the always awesome Benedict Cumberbatch) to make his identity secret again. When Strange's magic solution goes terribly wrong, Peter is thrown into the world of the multiverse, which allows visitors from alternate realities to come together into one. This includes Spider-Man alums Tobey Maguire and Andrew Garfield.
The film itself is a fun ride that incorporates iconic characters from earlier iterations (um, hello Willem Defoe!) and explores the concept of identity.
As the world becomes more digitized, this sci-fi concept is becoming somewhat of a reality—at least for marketers. With the proliferation of channels, devices and email addresses, brands often mistake the same individual as multiple customers. This real-life multiverse is essentially creating new "identities" that are actually one.
Let's break it down
If we look at Spider-Man, arguably all three versions of the hero are, at their core, just Peter Parker. Their flare gives them those slight differences—The Friendly Neighborhood Spider-Man (Tobey), The Amazing Spider-Man (Andrew) and, my personal favorite, The Avengers Spider-Man (Tom).
These three Peters all have very similar profiles, but because of their splintered lives in their respective multiverses, they can appear as three entirely different people. Like so:
You may see the Friendly Neighborhood Spider-Man, portrayed by Tobey McGuire, as one person because he has an online channel preference, and you know he lives in New York City, and that he recently purchased athletic shoes.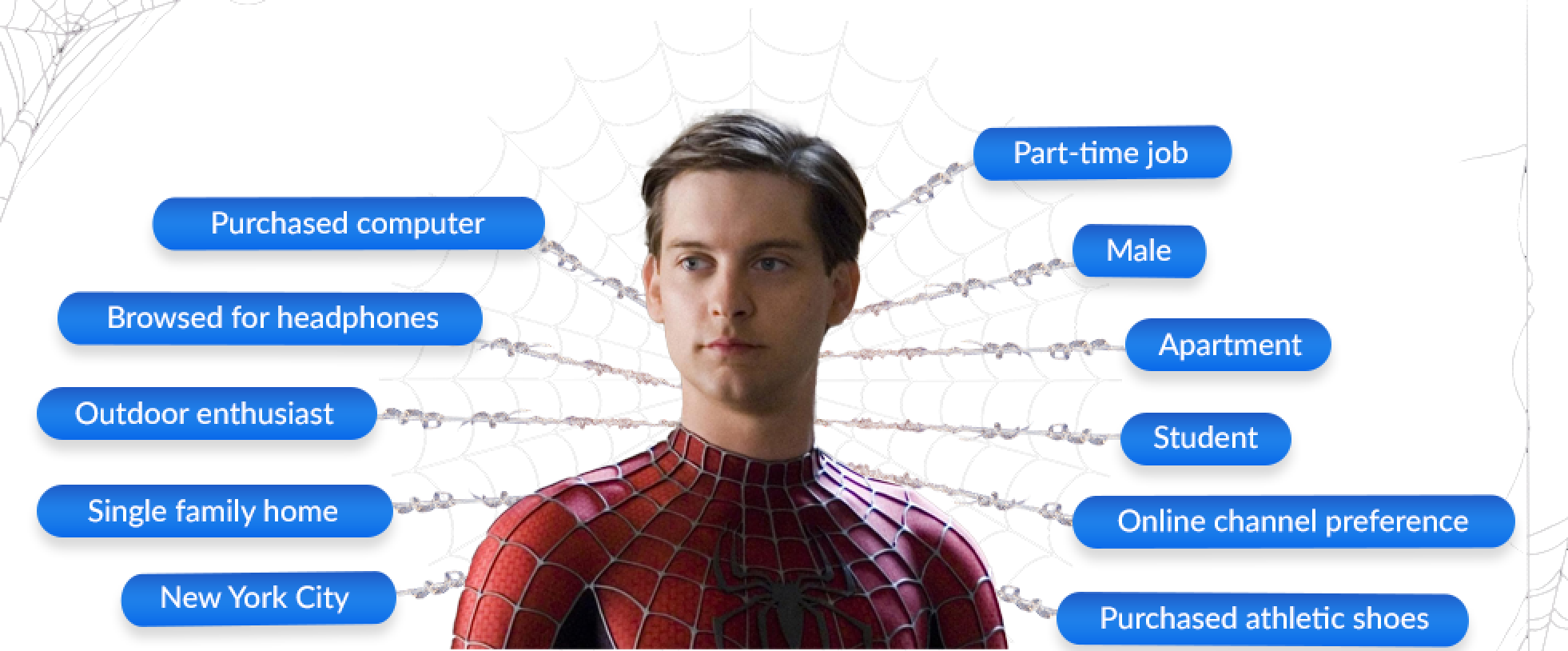 Illustration by Epsilon, photo courtesy of Sony Pictures
Meanwhile, the Amazing Spider-Man, played by Andrew Garfield, also has an online channel preference, but looks different because he made an in-store purchase. Each profile may look slightly different depending on their channel preference, browsing behavior and purchase history—but when you look closely, it's just a variation of the same person.
Illustration by Epsilon, photo courtesy of Sony Pictures
And last, but certainly not least, is the Avengers Spider-Man, our beloved Tom Holland, who looks like a completely different customer because you've only seen him on mobile, and you know he lives in Queens and is a reading enthusiast.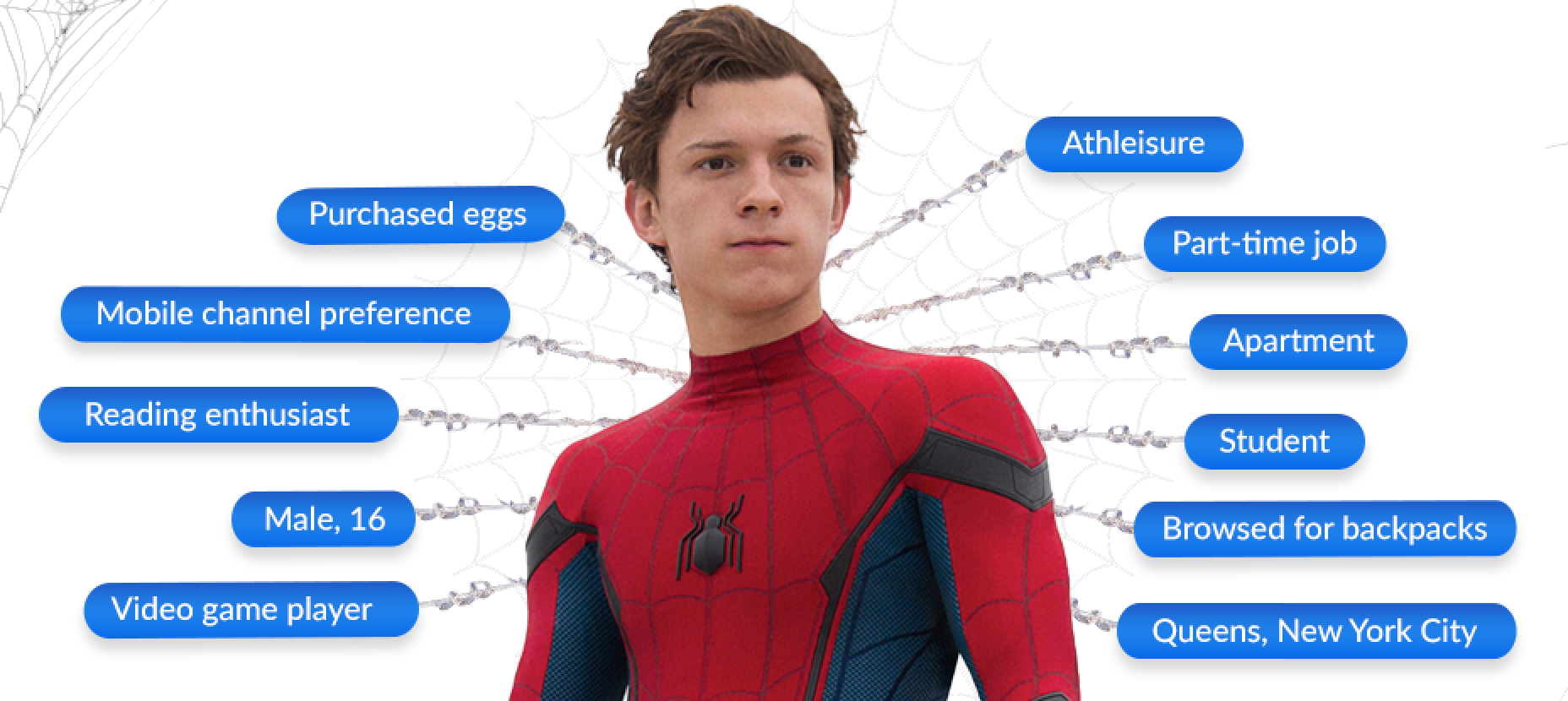 Illustration by Epsilon, photo courtesy of Sony Pictures
Using this analogy, marketers, too, often see the same person with slight variations and assume they're actually different people because they're not properly resolving the different views of that single person. Unlike these fictional heroes, though, these profiles exist in one singular dimension.
With connected identity, you'd just have one holistic profile of Spider-Man, and know when to reach him on any of his devices.
The quest for identity
Download the feature
Similarly, consumers often have similar qualities. A shopper might be browsing and purchasing in-store and online and access several channels on different devices. An increasingly complex path to purchase can often steer brands into believing one consumer is three different people entirely, meaning they're missing out on opportunities to understand and connect.
So you might market to each version differently, not understanding these similar versions are actually one. While one Spider-Man appears to be shopping for travel backpacks and the other for a gaming console, arguably all three versions of the hero, at their core, are just Peter Parker.
Forrester found that, at best, only half of brands are capable of fundamental identity resolution capabilities, like finding consumers across devices, controlling message frequency and building a unified customer profile.
For brands and retailers, this can mean millions of dollars are being left on the table in marketing waste, which is precisely why marketers are heavily invested in knowing their customers. Identity resolution spend is projected to reach $2.6 billion in 2022. Changes in cookie availability, location data and privacy regulations make identity resolution solutions more important than ever.
Will the real Peter Parker please stand up?
Marketers don't need to rely on their "Spidey senses" to create effective marketing. Identity resolution means brands can find Peter Parker in any part of the multiverse, no matter if his habits change over time. In the movie, Tom Holland's Peter is forced to combine all the parts of the multiverse back together again so that mankind can escape chaos, which is precisely what marketers are striving to do with their own customers.
As Uncle Ben (or if you're Tom Holland, Aunt May) once said, "With great power comes great responsibility." Go forth and use your identity resolution for good and streamline our own marketing efforts.
Header illustration by Epsilon, photo courtesy of Marvel Enterprises