Marketers have heard it a million times: Customers want personalization. They want offers, promotions and recommendations tailored specifically to them, straight to their inbox. In our own research, Epsilon found consumers are 80% more likely to make a purchase when a brand offers personalized experiences.
This has been particularly true over the last year—while email has been a top channel for brands to communicate with their customers during COVID, we predict consumer behavior will shift yet again (and soon). As people become open to exploring other channels, marketers should consider doubling-down on personalizing emails to pave the way for a continued, loyal relationship with their customers throughout their journey.
And COVID isn't the only disruption marketers need to consider. As privacy concerns amongst consumers continue to mount and industry regulations become more prevalent (think: Apple's recent Mail Privacy Protection update), marketers can keep customers within their brand ecosystem by, for example, using personalized emails to drive clickability in campaigns to then recognize and respond to customer behavior online and in nearby brick and mortar stores.
This is all great in theory—but talking about personalizing emails is a lot different than putting it into practice. How can marketers actually succeed in making 1:1 connections in their everyday email marketing campaigns?
We've talked before about some of the keys to success in personalized email marketing. Now we'll review some of the basics on how to personalize emails, then take a deeper dive into one of the foundational elements: creative strategy. Read on for tips from our email creative experts on how you can use email design and creative to get personal, and deliver the most impactful messaging and results.
What is email personalization?
Personalization in email marketing means using subscriber data to craft an email communication that is tailored to a specific person. By using information you already know about your customers, like name, product preferences and purchase history, marketers can step away from the impersonal batch-and-blast sales messages into sending something that feels relevant and important to the person on the other side of the inbox.
Why is email personalization important?
Personalized email marketing creates demand for your brand. When customers find value in your marketing, they want to hear from you on information related to new products, offers, editorial and branded content, rather than feeling burdened by your communications. This helps build relationships and drives trust amongst your customers.
It also has a stark business impact as well—we've found that personalized emails have a 122% ROI. Marketers that can leverage the art of personalizing emails can increase their overall marketing impact.
Creative is a key to creating buzz-worthy personalized emails
So, you're sold on the importance of personalizing emails. But how can you make your emails unique and interesting for your customers? Creating and refining the right creative strategy is key. Stylized elements like copy, imagery, colors, and fonts are all elements that can be personalized to the individual. On average, people spend 5.4 hours on their email every day, and check it every 12 minutes. These people also receive hundreds of emails from other companies vying for their attention. Your brand must push past the clutter in their already full inboxes and stand out with personalized creative that better connects with the customer on an individual level—making them more likely to choose your service.
Honing your creative strategy: 3 Pro tips for stronger email personalization
Pro tip #1: The right email architecture system will take your creativity—and efficiency—to new heights.
Great creative strategy starts with an email architecture that sets your team up for success. It's easy to create a hyper-personalized email campaign for just a handful of customers—but many brands struggle with how to scale personalized creative assets—especially with limited internal resources.
The most successful brands invest in an email architecture that has responsive, custom modules that they can implement dynamic and data driven content depending on the campaign strategy. This gives marketers the flexibility to maximize their creativity without sacrificing speed to market.
Tools like Epsilon PeopleCloud Messaging's Visual Editor allow users to build professional, brand-compliant emails with personalized data driven content without requiring new HTML code. This puts creative power in the hands of more team members and maximizes efficiency. "The great thing about the Visual Editor is that it allows our clients to create messages faster than ever, with the confidence that what they create will be brand compliant. I've seen clients gain up to 50% efficiency in terms of the time it takes to create messages," notes Epsilon's Creative Director, Brian Tavares.
Case study: Marriott
Marriott's HVMI (Homes & Villas by Marriott International) line of business wanted to customize their messages based on a person's membership status. They also knew their audience was mainly mobile-focused. Epsilon worked with the hotel chain to create a flexible email architecture that had unique paths for members and non-members while supporting the different touchpoints along the two journeys—all in a mobile-first environment, which drove engagement amongst their subscribers.
Pro tip #2 Design to capture your audience's attention
As you know by now, audience members are flooded with hundreds of emails a day. When the inbox is so congested, how can your company stand out and make an impression? Design is a great place to start to capture your subject's attention and convince them to click on your email.
When it comes to design, we actually recommend thinking inside the box. Yep, you heard that right. Email is a unique channel because you're limited by the space constraints of desktop and mobile inboxes. Think about how to design content for a long vertical scroll in a way that resonates with your subscribers. Scott Multer, VP of Creative at Epsilon recommends, "To grab attention, brands should experiment with using the vertical space in new and unexpected ways. For example, Epsilon saw great results when working for a leading quick serve restaurant by simply turning a sandwich on its side."
Machine learning is also a huge opportunity for marketers to unlock 1:1 personalization. Thanks to advances in tech, companies can now ensure they are telling a story that is relevant to the person at the right place and time, for a specific reason. When marketers leverage the power of automation and machine learning, consumers will get an email that shows deals, offers and promotions the customer is interested in, based on real-time behavioral cues.
Case study: BJ's
BJ's Wholesale Club was looking to boost engagement as well as drive maximum revenue for their most popular merchandise categories. Using AI, they were able to automate two customer journeys, which allowed the retailer to save time and provide personalized content to their members. The conversion rate for machine-learning-fueled emails was about 2.3x the rate of emails that did not use machine learning.
Pro Tip #3: To build loyal customer relationships, the journey is just as important as the destination.
Your email creative strategy should account for the different stages of your customer journey.
Think about how the look and feel of each message fits into the ongoing campaign—and don't lose sight of the fact that email is one of many brand touchpoints a customer may interact with throughout their day. There are other channels you can use, such as social media platforms or your website. Your email creative strategy should be cohesive without feeling repetitive or duplicative in content.
For example, including dynamic content into your emails—which will update based on location or time of day even after the email has been sent—ensures messages are always relevant as the customer moves through the buying process. (But be aware that Apple's latest Privacy update may make your dynamic content less accurate, so be sure to have fallback content available.)
Case study: AutoZone
Weather conditions are an important factor in safe driving, so AutoZone decided to provide customers with email content relevant to their location and weather upon opening. Experiencing extreme cold or heat? You might get advice and product information about batteries. Withstanding a storm? AutoZone may offer you content on wipers. Dead of winter in your area? You might need some headlights—and AutoZone would serve them up in your email. This agile content was possible thanks to modular creative that could be easily turned on or off if a customer was in an area where the weather event occurred. The weather-based content added an unexpected level of personalization, reinforced AutoZone's commitment to delivering helpful advice and was easily scalable across their email marketing roadmap. Best of all, these personalized email campaigns far outperformed AutoZone's static email content.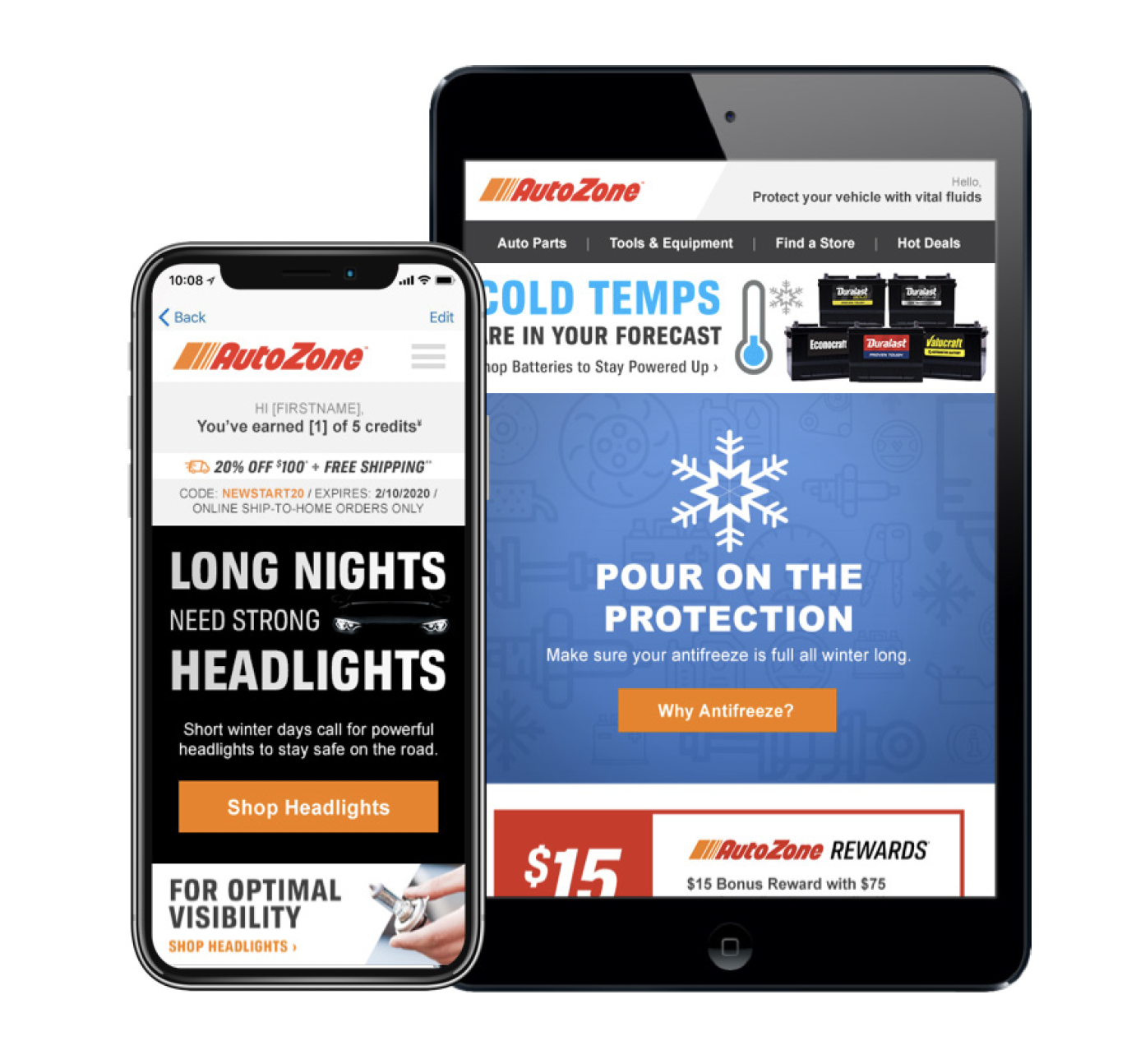 Another tip is to continuously pay attention to customers as they move through your email program. Each encounter is a chance to capture data to further personalize the experience and adapt according to their preferences.
According to Andrea Marvel, Lead Creative Strategist at Epsilon, "When thinking about your email strategy, it's important to take into account the holistic customer journey. Start by understanding all the different entry points into your email program; identify where and why each customer signed up. That will give you some insight into why they're there and how you can start personalizing their emails."
While email is only one aspect of your relationship with your customers, it is one of the channels marketers have the most control over. Your customers made a purpose-driven decision to engage with your brand, and it's your job to fulfill that purpose.
Wrapping it up
Personalizing emails is an essential way to deliver customers the relevant content they've been craving. While "personalization" can seem like a daunting concept to execute, starting with a strong email architecture that allows for flexibility is key. Then, move into creating a scalable creative strategy that tells a compelling visual story at each stage of the customer journey.
Not to mention, COVID has jolted us forward into contactless interactions, increased digital commerce, and a consumer base that demands more direct, authentic messaging from brands. Email is now front-and-center due to the pandemic, and the influx makes it more important for brands to continue to refine their strategy to best serve their customers with direct communication even as we continue past the pandemic. Brands leaning into email for relevant, intimate communication are coming out on top.