For decades, McDonald's has been at the forefront of culture. Yet in 2020, many young Americans had never tried a Quarter Pounder. McDonald's wanted to reach youth and cultivate a new generation of brand fans by showing up for them in a way that was culturally relevant across channels and would drive digital adoption and guest counts. The resulting concept was the Famous Orders campaign.
The campaign started with a universal "fan truth" that served as the anchor, "No matter how big or famous you are, everyone has a McDonald's order." This digital, cross-channel campaign used the buzz of celebrity fandom and favorite meals of stars like J Balvin, Travis Scott and Saweetie, as well as beloved holiday characters like the Abominable Snowman and the Griswolds, to engage a younger target audience, encourage them to download and register for the McDonald's app, place an order and continue engaging, even after the order ended.
To successfully execute, McDonald's needed a partner that could effectively own the customer relationship management (CRM) portion of this effort: a partner with a solid track record for email marketing and push notification impact that could seamlessly integrate with other the digital channels. Enter: Epsilon.
The recipe to success
Epsilon managed McDonald's email and push notification channels for Famous Orders. To sync with the personal, authentic theme of the program, we created personalized experiences for each phase of the campaign:
Generating pre-buzz with engaging email and push campaigns to create excitement and anticipation around Famous Orders menu items.
Supporting launch with interactive email campaigns and rich push notifications promoting the app download and celebrity meals.
Sustaining digital engagement during and after the promotional period was over with clever animated email campaigns featuring limited time collab meals.
The team was able to accommodate a longer legal review cycle in a fast-paced environment balancing multiple stakeholder needs including: celebrities, business, creative and more.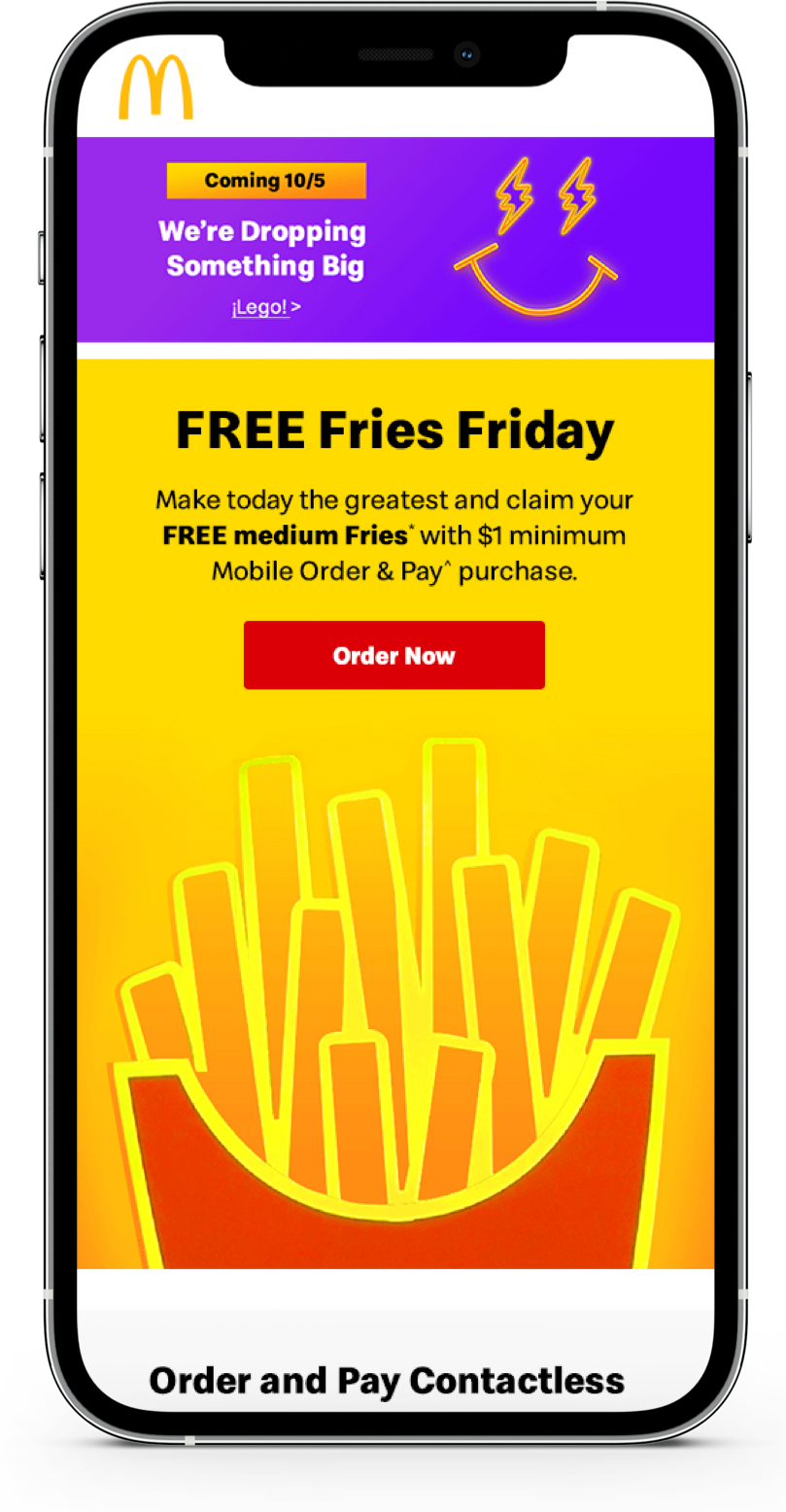 Tasty engagement results from email and push
Overall, the campaign surpassed goals and benchmarks. At a program level, the 2020 Famous Orders campaign more than exceeded targeted goals, showing a 49% increase in new customers (more registrations and faster adoption), a 44% increase in existing customers (higher level of retention) and an overall shrinking of the base of lapsed customers, for an optimized marketing funnel. And McDonald's hit their app registration goal in a record three days. Guest counts skyrocketed with a 39% increase in guest counts per restaurant per day for the J Balvin meal and an all-time high for overall digital guest counts for the Holiday Deals.
For email specifically, the launch campaign had the second highest impact on incremental revenue attributed to email in 2020. We surpassed benchmarks with a 20% average open rate and a 10% average click-to-open rate. The campaign was so successful overall that it was awarded the Email Experience Council's Best CrossChannel Campaign Award.

According to Catherine Thacker, Director of CRM at McDonalds, "Epsilon's award-winning work on Famous Orders helped us to exceed our campaign goals. The team played a crucial role in the orchestration and success of our omnichannel customer experience."
To learn more about McDonald's work with Epsilon, check out the full case study.