Right now, during this global pandemic, the majority of consumers do want to receive advertising, but many – including just over half of US and UK consumers – admit that they have received a message they felt was inappropriate in the current climate.
This is according to a study of 4,045 consumers in the UK, France, USA, Italy, and Spain, organised by Epsilon-Conversant and CJ Affiliate.
In total, half (48%) of global consumers have received a marketing message in the past two weeks that they felt was poorly timed or inappropriate.
However, the majority of consumers (62%) said that they did want to receive adverts at this time, with three-quarters of consumers in the US (72%) and Italy (76%) believing it is appropriate for brands to be sending ads.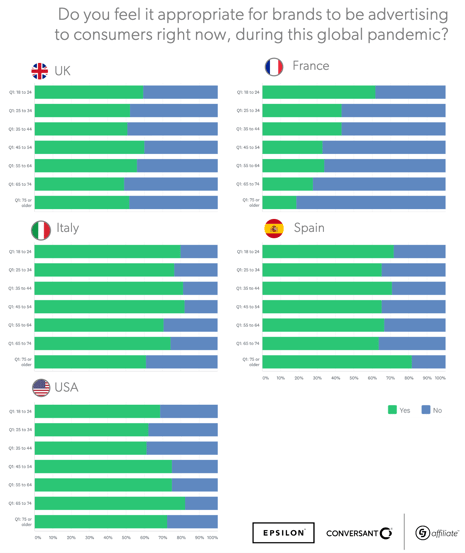 These findings are corroborated by research from GlobalWebIndex, Kantar, and others, as reported by eMarketer.
"Turning off paid marketing channels could lead to a decreased share of voice and the research shows that this knee-jerk reaction would be unnecessary," explains Elliott Clayton, SVP, Epsilon-Conversant. "The majority of respondents do not think brands need to stop advertising during the COVID-19 outbreak.
"Instead, brands must align their products, services and promotions with the needs of consumers in this situation. This is a human problem that requires brands to find their human sides."
The study reinforces the need for brands to show sensitivity. For example, many consumers preferred to receive messages of wellbeing and positivity (49%) from brands, although many were also still looking for discounts and offers (58%). Only 14% of consumers wanted to see product-focused content from brands at this time.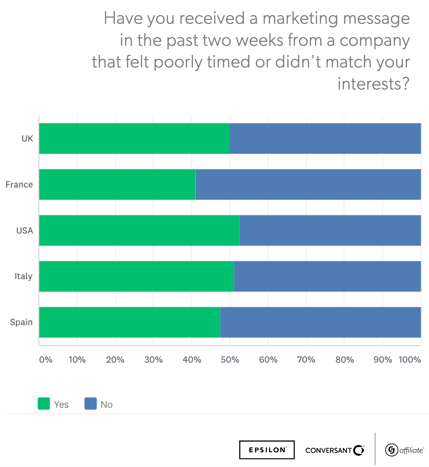 British respondents were keen for wellbeing to be at the forefront of advertising amidst an overwhelming call for messages of positive thinking (61%). In contrast, respondents from the US and Italy want to see adverts and marketing communications around deals and discounts.
"There is opportunity but not for opportunists," continues Clayton.
"Right now, brands must ask themselves, how might I be able to help or inform my customers, not just push through that sale? Even restaurants have used this time to offer their recipes for free over social channels to stay relevant, and as this situation continues to develop differently across the globe, brands need to be listening and responding to consumers' varying concerns and needs.
"That means opening up communication channels and starting a real, honest dialogue one-to-one."