If you're investigating ways to get the biggest return on investment for your marketing dollars, you've likely run across the concept of omnichannel marketing. Once considered a cost-prohibitive marketing strategy—one that only high-end luxury brands and large multinational companies with mammoth marketing budgets could pursue—omnichannel marketing has become accessible to companies of all sizes with the advent of new technologies like all-in-one marketing.
Because today's average consumer uses six touch points per purchase (and 90% of consumers expect all interactions to be consistent regardless of channel) developing an omnichannel marketing strategy has become necessary to meet the expectations of today's consumers. Without omnichannel marketing, your company is at high risk of disappointing customers with inconsistent messaging and branding confusion.
This article offers an introduction to the key elements of omnichannel marketing, distinguishing it from multichannel marketing, and provides an overview of what goes into establishing an effective omnichannel marketing strategy that will benefit your business.
You'll see how omnichannel marketing benefited a fast-food industry giant like when McDonald's adopted omnichannel advertising and marketing strategies to great advantage, and how you can apply many of the same strategies to grow your own small- or medium-size enterprise.
Finally, this article provides three tips to help you create and implement an omnichannel marketing strategy structured for your unique business type and your current and prospective customer base.
What is omnichannel marketing?
Omnichannel marketing, also commonly spelled omni-channel marketing, begins and ends with the consumer experience. When you create an omnichannel marketing strategy, you focus on how you can meet your customers where they are to make the buying experience as easy, seamless, and user-friendly as possible. That means promoting your brand across all the channels, devices and platforms used by your target market.
Omnichannel marketing is especially relevant today, with over 46 billion connected devices currently in use worldwide. One report found that the average number of devices per household more than doubled in just one year, increasing from 11 devices in 2019 to a whopping average of 25 devices per household in 2021. An even more recent report found that the average consumer owns 6.8 personal devices, while those considered "high tech" individuals own a total of 12 personal devices.
Instead of offering your customers one or two opportunities to convert, you recognize that their interest could reach its peak level during any part of the customer journey, so you make sure that all the locations you set up to interact with your customers and clients harken back to each other. Whether a customer is engaging with your products and services in your brick and mortar store or offices, downloading your app for more information on your products or services, or learning about your business on social media or through other outlets, they will encounter the same overarching message.
Your messaging should consistently encourage them to purchase your products or services and continue interacting with your brand on their buyer's journey. The idea is that the consumer has the ultimate freedom of choice on how, where, and when they will embrace your message and, hopefully, buy what you are selling.
Omnichannel marketing vs. multichannel marketing
Often, business owners and marketers use the terms multichannel marketing and omnichannel marketing interchangeably. While the two approaches have some similarities, their focus and structure is quite different. To fully take advantage of omnichannel marketing, it's important to understand the differences and similarities between the two.
With both multichannel and omnichannel marketing, customers are provided opportunities to connect with a business using more than one channel. Today, many businesses promote their brand through their website, app and by maintaining a social media presence both on their own and through the engagement of influencers. Many also place digital ads on various search engines and other venues, operate a storefront or office and provide customer service support via telephone or live chat.
Some engage in print advertising in general circulation and trade papers and journals, while others leverage the airwaves to reach out to customers via radio, podcast, television, and on-demand internet channels like YouTube. With a multichannel marketing strategy, the consumer has a multitude of potential touchpoints that allow them to receive a one-directional message from the company. This messaging may or may not complement or mirror the message emanating from a different channel.
So what is omnichannel marketing and how is it different? Instead of separate, siloed messaging, the approach is much more holistic. With omnichannel marketing, the goal is to provide a seamless multi platform user experience. The omnichannel approach embraces the reality that the consumer is more likely than not to engage with the brand over several platforms.
Therefore, the omnichannel strategy plays to this phenomenon by meeting the customer where they are, regardless of which channel they are interacting with at the time. Nearly all Americans (98%) switch between devices at least once in the same day, and an effective omnichannel marketing strategy helps you keep up. A user who interfaces with the brand on its website, on its app, or via one of its social media platforms can expect to embrace the same experience, the same message, and the same outcome across each of these channels.
Benefits of omnichannel marketing strategies
An integrated omnichannel marketing strategy offers a number of benefits to both your company and the consumer.
You elevate your brand identity. When you communicate consistently across multiple channels and platforms, you create a cohesive and recognizable branding message. This consistency in branding through targeted messaging obviates any potential brand confusion, opening the door for easy brand recognition and loyalty. In fact, companies that adopt a strong omnichannel marketing strategy achieve 89% greater customer retention rates compared to businesses that don't.

You elevate the customer experience (CX). As a customer-focused strategy that takes into account every interaction between brand and consumer, omnichannel marketing can't help but produce a better CX on every front. The more satisfied a member of your target market is with your brand, the more they will seek out future interactions with your company and its products. By providing consistency across all stages in the customer journey, you're creating a positive customer experience.

You increase revenue-generating opportunities. Because the customer has several opportunities to engage and re-engage with your business over multiple channels, chances to convert increase exponentially as brand awareness and brand loyalty climb. Statistics show that the frequency of completed purchases is 250% higher for businesses that employ omnichannel marketing strategies vs. single channel. Additionally, the average value of completed purchases is 13% higher per order on omnichannel vs. single channel.

It provides valuable insights into consumer behavior. The more you know about how your customers behave across channels, the better insights you will have to inform your future marketing and sales strategies. Since omnichannel marketing is closely aligned to the buyer's journey, you can use analytics regarding points of contact and where and when conversions occur to inform decisions like advertising spend and where to focus your efforts on future campaigns.
McDonald's Famous Orders: An omnichannel marketing case study
An omnichannel marketing example of a campaign done right is the McDonald's Famous Orders campaign, where the fast food giant leveraged the intelligence and expertise of Epsilon's outcomes-driven marketing systems to drive app downloads and expand membership in its mobile-based loyalty program.
McDonald's goal was to reach youth and cultivate a new generation of fans while driving digital adoption and guest counts. They launched the Famous Orders campaign, encouraging guests to follow in their favorite celebrities' footsteps by ordering the special meal combinations their idols regularly order. Celebrity participants chosen for their appeal to Gen Z and millennials included rapper Travis Scott and K-Pop sensation BTS, among others.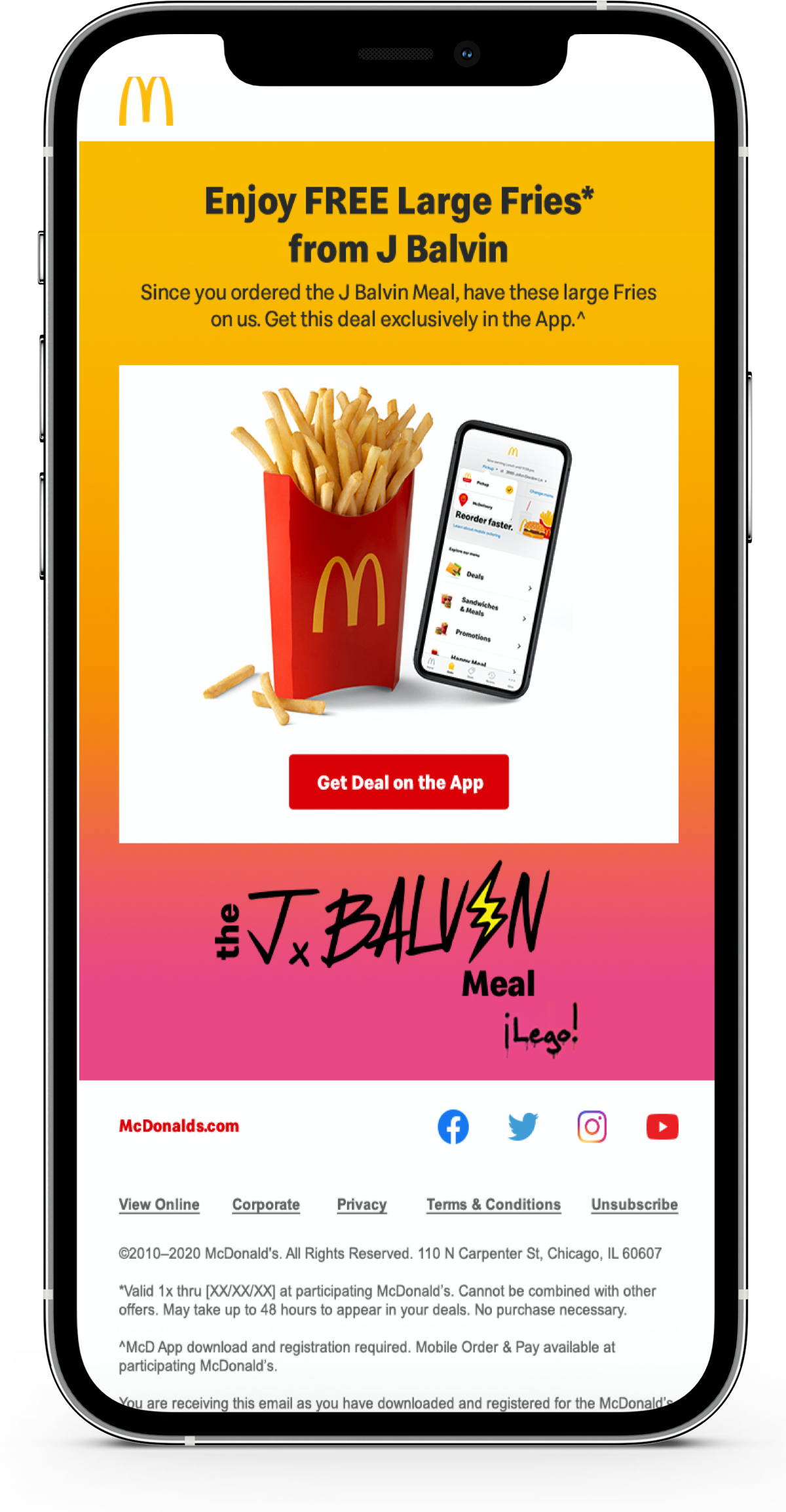 Leveraging Epsilon's integrated marketing platform, McDonalds sent emails and pushed notifications through channels like SnapChat and Instagram for Famous Orders, using personalized experiences for each phase of the campaign. They were careful to choose the channel based on fan-based demographics and other insights.
McDonald's was able to build pre-campaign buzz by setting up email and push notifications around the featured celebrity's menu items. The omnichannel campaign supported the launch of a new McDonald's app with interactive messages that promoted app downloads and discounts on celebrity meals. The company captured the data from the downloads to successfully sustain these engagements with animated emails touting celebrities and their unique meal choices. Combined with strategically placed ads on YouTube and desktop ads on websites, the campaign surpassed all of the company's stated goals and benchmarks, and even garnered industry awards.
As one of our most successful omnichannel marketing examples, the ROI for the campaign was impressive. McDonald's reported a 49% increase in new customers, a 44% increase in engagement from existing customers, and a 20% average email open rate. By all accounts, the omnichannel multi-faceted and interrelated campaign was able to successfully connect the McDonald's brand with established and next generation customers to drive outstanding outcomes.
3 Tips to improve Your omnichannel strategy
While the McDonald's omnichannel example is impressive, such a robust strategy doesn't have to be out of reach for smaller enterprises. You can get excellent results without breaking the bank if you follow a few simple tips:
1. Align your technology with your goals
2. Get to know your customers
3. Align your omnichannel campaign with the customer journey
1. Align your technology with your goals
The right technology is a fundamental component to achieving omnichannel marketing goals. It is, therefore, extremely important that you find the most effective technology for your purposes.
As you survey the landscape of available solutions, keep these questions top of mind:
Does the technology align with my company's omnichannel strategy?

Is the technology solution adaptable to our existing infrastructure and will it be scalable as our infrastructure matures and grows?

What kind of schedule will we be provided for updates and enhancements? How can my company feel sure that the technology we are adapting will be around for the long haul?

How much support can I count on during onboarding and what level of customer service is offered to support the technology offerings?

What are the short- and long-term costs and do they fit within our budget?

Does the purchase match our plans for growth and will this technology serve us throughout our journey?

How much can I trust that this technology partner will fulfill its promises? Does its value proposition align with my company goals and vision?
2. Get to know your customers
For any omnichannel strategy to be successful you need to know your customers — who they are, where they're from, the devices they use most, the content they love, and on which channels they spend most of their time. First-party data—web or mobile app behavior, in-store or call center interactions, purchase history, loyalty status, etc.—has never been more accessible, thanks to the analytics available in multi-channel environments. But that data only tells you part of the story. When first-party data is coupled with third-party data—consumers' interests (sports teams, preferred travel locations, etc.), and basic demographics—and then segmented, profiled and analyzed with first-party data, you get a true 360-degree view of your customer.
To achieve this level of insight into your customers' personas, it's important to incorporate the right third party data asset—like TotalSource Plus—into your data capture and analytics strategy. TotalSource Plus allows you to get a full picture of your customer by collecting and capturing cross-channel data and then performing identity mapping to understand as much as you can about your current customers and target market.
3. Align your omnichannel program with the customer journey
It's important to never lose sight of the customer journey across all channels. Pay special attention to customer pace so you can plan your omnichannel campaign strategy according to how your customers interact with your brand. Remember, you want to give each customer a relevant experience at every touchpoint.
Keep in mind that you have to constantly strive to hold your customer's attention—and you will have mere seconds to capture and hold this attention at each touchpoint. This is why it's crucial that you not only know your customers inside and out, but that you have the right tools to leverage those insights in order to align each element of your omnichannel program with their journey.
Epsilon can help you make true omnichannel marketing a reality
You don't have to be a large multinational brand like McDonald's to take advantage of revenue-producing omnichannel marketing strategies. Regardless of the type of business you run—whether it's a small-to-mid-sized service business, a brick-and-mortar retail operation with an e-commerce component, or a wholly online enterprise—your operation stands to profit from a well-designed omnichannel strategy that takes your unique customer base into account. Learn more about how Epsilon's all-in-one marketing platform can help you reach new customers and engage existing ones.